The Ultimate List of Great Books on Pricing
Individual Book Review:
Pricing on Purpose- Creating and Capturing Value
Book Author: Ronald J.Baker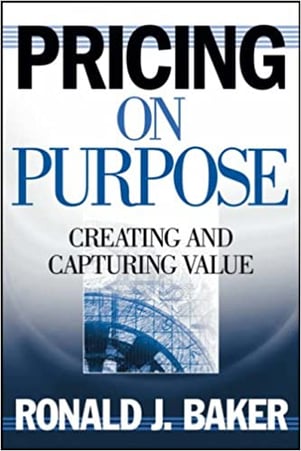 Pricing on Purpose analyses the importance of Pricing, one of the four Ps of marketing, often overlooked in business literature. Pricing is the way for a business to capture the value of what they offer the consumer.
Smg is one of the books selected from The Ultimate List of Great Books on Pricing we have compiled. Pick up a book or two - to help you charge the right price for your products or services.
Continue reading through our review of Pricing on Purpose below!
Baker explains how traditional methods of generating prices by calculating costs are outdated for today's knowledge-based world. With detailed research, thorough references and recommendations for further reading, Baker makes this book educational yet engaging. He clearly teaches the reader how to implement his ideas into their business and why these are the right way of generating profit in your company.
Key ideas and topics discussed in ´Pricing on Purpose´ Include:
- why is movie popcorn so expensive? ; How businesses engaging in price discrimination are actually increasing social welfare and making more products and services available to the poorest members of society.
- The New business equation: Even though the business might be "profitable" by conventional accounting standards, very often the most important costs and benefits don't show up on a profit and loss statement. The new business equation focuses on profitability not only gross revenue.
- The relationship between scarcity and value. Baker explains the relationship using the labor theory of value and the subjective theory of value.
- Value proposition: The author explains how a value proposition, although superior, can be a "Trade off".
- Bad customers drive away good customers: it is essential to see how the theoretical maximum capacity of a company is being allocated to each customer segment.
- Cost Plus Pricing Model: Baker describes how the concept of cost-plus pricing leads to overpricing in weak markets and underpricing in strong ones.
Pricing on Purpose allows an individual to realize their company´s value and understand, through real life case studies, how traditional pricing strategies (like cost-plus pricing) are leaving profit on the table.
Happy Reading!
Price Beam.
ABOUT THE AUTHORS:

RONALD J BAKER: Is the author of Professional's Guide to Value Pricing,Sixth Edition, TheFirm of the Future, Pricing on Purpose, Measure What Matters to Customers, and Mind Over Matter. He has founded VeraSage Institute, the leading think tank dedicated to teaching value pricing to professionals around the world.
---