The Ultimate List of Great Books on Pricing
Individual Book Review:
Contextual Pricing: The Death of List Price and the New Market Reality
Book Author: Michael Barzelay and Robert G.Docters.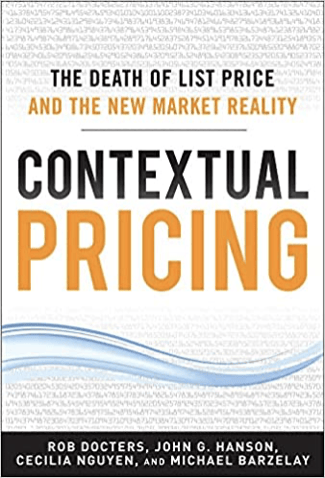 Contextual Pricing explains how consumers are influenced more by comparison points and contextual messages than by actual price levels. It explains how, if context is strategically managed, identical products can sell at entirely different prices to the same target customer.
Contextual Pricing is one of the books selected from The Ultimate List of Great Books on Pricing we have compiled. Pick up a book or two - to help you charge the right price for your products or services.
Continue reading through our review of Contextual Pricing below!
Contextual Pricing describes how context is changing the way that companies sell in the new global economy. It uses case studies to exemplify a wide range of pricing techniques and unique customer insights. This book explains the ways to compete within traditional or emerging digital marketplaces by using superior tactics instead of having to lower margins.
Key learnings from ´Contextual Pricing´ Include:
Understanding the role of pricing in your customer´s buying decisions.

How to establish optimal, more intuitive prices using context.

How to develop contextual pricing strategies that conquer competitor pricing―how contextual pricing can prevent destructive price wars

How to harmonize your pricing with branding, product development and channel strategies

Increasing profits with proven pricing tools, such as scientific bundling, tiering, branding, upsell "hooks" and more.
Contextual pricing is full of intriguing insights which will broaden your perspective on what is possible in optimizing revenue from your company´s products and services.
It is a must read for anyone who believes their company could be achieving higher revenues!
Happy Reading!
Price Beam.
ABOUT THE AUTHORS:

Michael Barzelay has been a professor of Public Management at the LSE since 1995. He holds an undergraduate degree from Stanford University and a Master's in Public and private Management from Yale university. Throughout the past 20 years, professor Barzelay has been working on research to expand professional knowledge about public organizations and professional practice within them.
---