The wording of your marketing message can be incredibly important for your pricing. Here in the US, owners or executives in many small firms have retained companies that oversee their personal pension plans. There are many of these companies, and together they consist of an industry that is called Third Party Administrators, or TPAs. Insurance companies themselves are not allowed to oversee their own plans, but an individual can, of course, oversee, or manage, his or her own plan. But since doing so requires substantial expertise, using a TPA is often a better choice.
TPAs can set up these plans in such a way that a relatively high percentage of a person's wages can be contributed into an individual's personal pension plan, often a multiple of what individuals can set aside by themselves. Since TPAs typically deal with high wage earners, what can be allocated to a private pension plan can become substantial amounts.
What a TPA actually does is to make sure that the plan is set up, and continues to be set up, in a way that it at all time conforms with all (ever changing) rules and regulations. If the tax authorities find that the plan is not conforming to these rules, they will disqualify the plan, and any funds in the plan will be subject to immediate taxation. If the plan of someone who is close to retirement is disqualified, and that person has paid into the plan for decades, the plan could amount to $5m or more. If all of that is added to the person's income one year, more than half of it will be paid in marginal taxes. Imagine that - you are about to retire very comfortably - and then suddenly one day half of your retirement nest egg is gone!
So, how does all of this comes back to your marketing message and pricing? Well, here's the story:
"Administration" is a very low value word. To me, it means moving a paper from one place to another, to put a paper away in a filing cabinet. I'm not alone having this perception. When willingness to pay for a TPA service was tested, it was found the market was willing to pay a fairly low amount: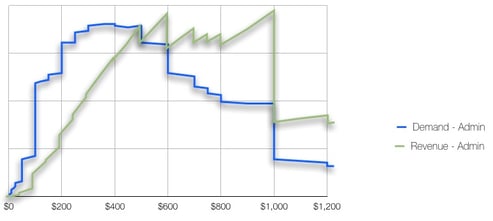 Demand for a service, as described as "administration" peaks between $250 to $500 a year. Revenue for the same service is maximized at $1,000. Above $1,000, demand is minuscule.
But when the descriptor word changes, willingness to pay changes as well. Dramatically. When, instead, the descriptor become "Compliance," demand peaks between $2,000 and $2,500, and is virtually flat all the way to $5,000, where revenue will be maximized. Amazing, is it not?
So here we have a whole industry comprised of thousands of companies that (with one exception) have such a poor marketing message that they leave massive amounts of money on the table. But this is even more ridiculous, as what they actually do is "ensure compliance." So for this industry, it really pays to actually tell their customers what they do in their marketing message, as opposed to using some anodyne descriptor as "administration.