We have become conditioned to believe that whenever we buy more than one of anything we get a lower price per unit. It makes sense for the seller to increase the volume of sales to turn inventory quicker or decrease the manufacturing cost. It makes sense for the buyer as the price goes down per unit. But it does not alway have to be so.
Pricing and marketing are intimately connected. With proper marketing, your customer's willingness to pay increases and so does their loyalty to your brand and your products.
Counterintuitively to what we would expect, Gillette has proven that with excellent marketing they can sell bundles of blades at higher prices the more blades there are in one razor. Instead of reducing the price when you buy more, Gillette proved that the more blades there are used in a razor, the higher the prices can be charged. See illustration below.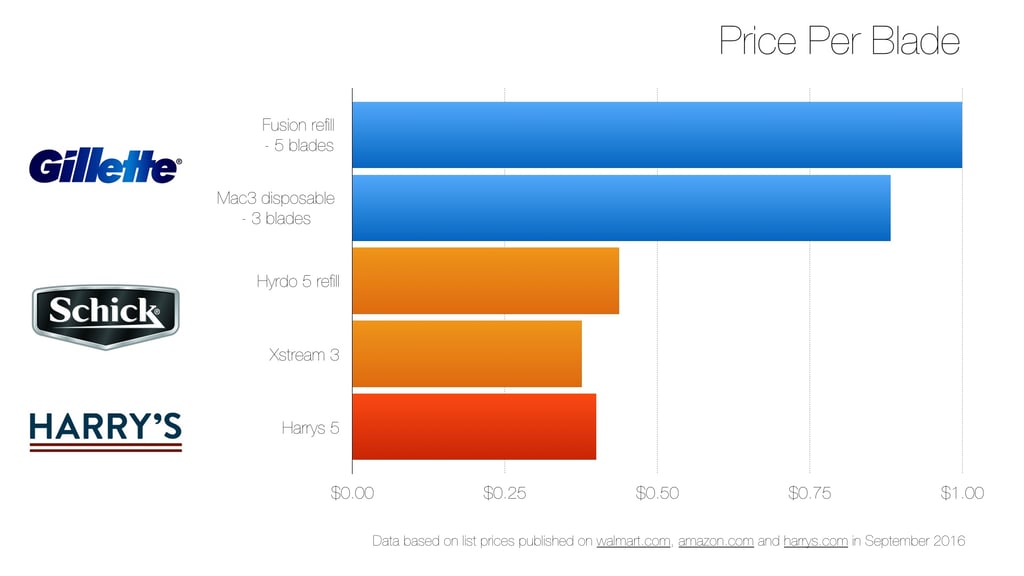 Schick has followed Gillette in charging more for more blades, but at prices that are less than half of those of Gillette. Harry's claim to provide a better product with blades made in Germany, but are still charging much less than Gillette.
What can we learn from this? Well, the first thing we can learn is that if you provide more value (perceived or real) by selling more of something you can charge higher prices. The second is that great marketing drives a higher willingness to pay. And a greater willingness to both increase profits and therefore provide additional resources both for more and better marketing and product development. It also affects shareholder value - while both Gillette and Schick (the brand is owned by Edgewell) have other products, Gillette has a market cap of 3.2 times revenue, Schick has 1.9 times.