Book Review - Impact Pricing: Your Blueprint for Driving Profits

PriceBeam
·
2 minute read
The Ultimate List of Great Books on Pricing
Individual Book Review:
Impact Pricing: Your Blueprint for Driving Profits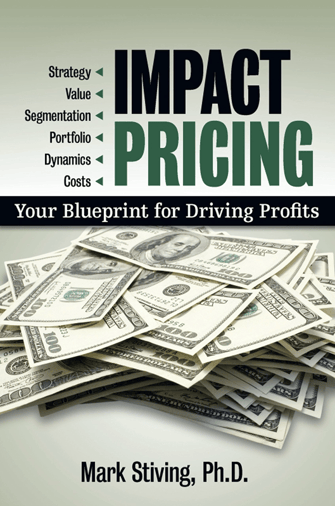 Book Author: Mark Stiving
Am I Pricing Right? Every business owner is obssessed by this question. Experienced pricing strategist Mark Stiving calls into play more than 15 years of experience in profitable pricing and conveys an efficient plan to help you positively answer this necessary question.
Impact Pricing is one of the books selected from The Ultimate List of Great Books on Pricing we have compiled. Pick up a book or two - to help you charge the right price for your products or services.
Continue reading through our review for Impact Pricing below!
Mark Striving encourages you to revaluate your pricing framework and business approach, supporting you to stop focusing on price as an instrument to sell and start focusing on price as a means to drive profits and scale your business.
He breaks down critical pricing concepts, and presents the readers with practical case studies, drawing from examples including Apple, BMW, McDonalds and Mercedes, amongst other market leaders.
Striving provides the design to integrate proven pricing strategies into your growth plans. Impact Pricing is best positioned to help non-pricing business professionals, who will benefit from acquiring the grasp and importance of the pricing lever.
Impact Pricing is a very practical book which start´s by clarifying and answering the basics of your pricing strategy. The book then transitions into consumer psychology and how customers behave when confronted with a price, and how to create a value-based pricing strategy, as well as how to perform price segmentation.
The book clearly describes the key pricing imperatives and helps the reader to understand the impact of these imperatives on their businesses.
Impact Pricing will help you learn how to:
- Set prices that drive your market position
- Correctly use costs to make profitable pricing decisions

- Implement value-based pricing to charge what customers are willing to pay

- Use price segmentation to leverage value and capture new business

- Cash-in on complementary products and product versions with portfolio pricing

- Prepare for changing conditions pricing strategically now
Impact Pricing empowers you to strengthen your pricing structure to withstand any conditions, dramatically elevating your company performance, position, and profits for long-term success.
Happy Reading!
Price Beam.
ABOUT THE AUTHOR:

Mark Stiving: is a recognized pricing expert with has more than 20 years' experience in helping businesses boost revenue and profit. He applies innovative, value-based pricing strategies to guide growth and increase profits for large and small companies, especially entrepreneurs who must focus on the bottom line. He holds a PhD from U.C. Berkeley and MBA from Santa Clara Univ. Mark is an award winning speaker, coach and consultant and he is also an instructor at Pragmatic Marketing.
---