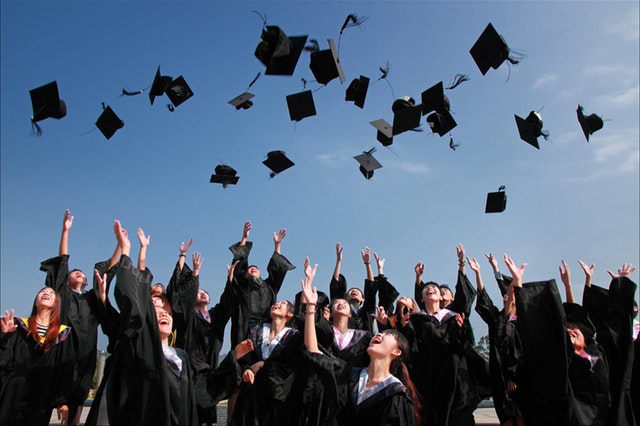 Almost 9% of the US GDP is spent on education, making this the second largest industry in the country behind health care. Education, of course, comes in various forms such as early childhood education, primary & secondary education, higher education, continued education, and tutoring & test preparation.
The industry is booming with more college applicants than ever, substantial tuition fee hikes and the importance education being continuously emphasized by scholars and politicians. With some Ivy League educations costing more than a home, people are understandably starting to question whether the value of education is really that high.

The Value of Education
A simplified way to determine the value of education that is often used is considering the effect that education has on one's future cash flows, i.e. how it affects your future earnings.
Let's take an MBA, for example: Usually, MBAs are completed by early-career professionals who have been working for around 5 years, and the statistics show that candidates at top MBA institutions roughly double their salary level upon completion.

For example, the MBA at Harvard Business School leads to an average annual salary of $178,000, which is a 93% increase, i.e. prior to entering the average salary is around $92,000. Assuming no wage progression, the cost in terms of foregone wages is, therefore, $184,000. Additionally, Harvard's MBA costs a whopping $93,600 per year (rent & utilities excluded), making the total opportunity cost $371,200.
It seems high, but is it? That depends on how our future earnings will change. Assuming you could have gotten 3% interest p.a. by investing this money in low-risk bonds, and that you don't need to borrow this money from the bank, then it takes 7 years for an MBA degree to pay off - and that's assuming that every year, your salary level is 93% higher simply because of the fact that you did an MBA. In reality, the real payback period is probably much longer.
The Real Value of Education
Above, we completed a simplified calculation for the value of education. However, most people won't base their decision on a cash flow analysis alone (most probably won't use cash flow analysis at all) -- after all, with an MBA comes also intellectual challenge and stimulus, prestige, entertainment, social interactions and a lot more.
The utility gained from things such as prestige and entertainment are near impossible to quantify, and so, in order to truly understand how much prospective students are willing to pay for education, willingness to pay research is needed. Of course, the cash-flow calculation will, indeed, form the basis for how much people are willing to pay, but even if you manage to quantify utility from social interactions and prestige, you cannot determine the importance an individual attaches to a salary increase, and how much disutility is experienced by this individual as a result of actually completing an MBA, with the exams, lectures and assignments that follow.
The Cost of Funding
One very key aspect to consider when looking at the value of education to students is the cost of funding, i.e. the price of raising the required amount to pay tuition fees. Some students have zero funding cost, e.g. students from wealthy backgrounds or those with solid savings. Others have significantly higher costs of funding if they need to borrow the entire amount from the bank, and pay interest several years ahead, alongside the stress that comes with being under financial pressure and living with a pile of debt. Commentators often question the value of education, however, this is often the wrong question to ask: after all, students have an entire life ahead of them, and a college degree arguably raises salary prospects quite significantly, and so, the investment should be worth it in the long-run for the average person.
The real reason why some are becoming hesitant is the cost of funding, and the disutility that comes with accumulating debt. This is an important distinction to make as the funding options available in a country will have a large effect on the willingness to pay for education.
In the UK, for example, home students are entitled to low-interest government loans, both tuition fee loans and so-called maintenance loans (to cover living expenses). To relieve students, they are only required to repay the loan with 9% of income more than £21,000 per year, thus making the cost of funding much lower than countries such as the US.
Value Drivers in Education
Like in any other industry, the right promotion is key to success - however, what do applicants actually care about when selecting which university to apply to, for instance? Rankings and reputation? Research quality? Notable alumni? Graduate salary? Facilities? Number of international students?
If you look at the promotion from most universities, it seems they don't know the answer and therefore attempts to promote every single 'value-driver'.

"Ranked one of the leading schools in the country, with 60% of our research being certified internationally excellent, our students (such as Mahatma Gandhi) are among the most sought-after graduates with average salaries at $XX,XXX. And by the way, our student body comprises more than Y different nationalities and we have state-of-the-art facilities."

A value proposition such as the above is not too far from the ones that many educational institutions try to pull off. As with any product or service, differentiation is of the essence, but fail to look into what features and attributes are the most important to their target group, they end up with a value proposition that is way too broad. Instead, institutions should identify their target group based on their strengths, and find out what really matters when communicating with this target group.
Read more about identifying value-drivers here