Book Review - Pricing and Revenue Optimization

PriceBeam
·
1 minute read
The Ultimate List of Great Books on Pricing
Individual Book Review:
Pricing And Revenue Optimization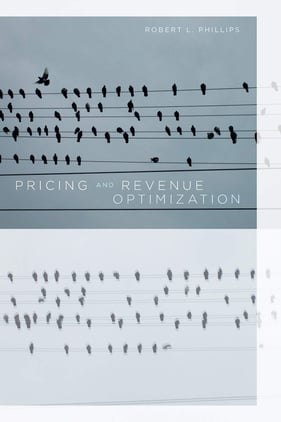 Book Author: Robert L. Phillips
The authors, founders of Nomis Solutions, reveal the methologies from their courses taught at Columbia and StanfordBusiness Schools. The book provides the simple concepts of pricing and revenue optimization in a practical way to MBA students, MS students, and advanced undergraduates.
Pricing and Revenue Optimization is one of the books selected from The Ultimate List of Great Books on Pricing we have compiled. Pick up a book or two - to help you charge the right price for your products or services.
Continue reading through our review of Pricing and Revenue Optimization!
Pricing a Revenue Optimization introduces the theories, concepts and applications of pricing and revenue optimization. It explores topics which are normally inaccessible to students and managers as they include the use of sophisticated mathematical techniques, in the areas of markdown management and dynamic prices. It uses case studies and practical examples to make this book comprehensive for any level of reader. The author introduces methods taught at his MBA courses at Columbia and Stanford Business Schools and includes end-of chapter exercises for the reader to practice their theory knowledge!
Key topics discussed in ´Pricing and Revenue Optimization´ include:
The Price Optimization problem broken down.

Tactics for Price Differentiation.

Pricing with constrained supply, market segmentation and variable pricing

How to measure revenue management effectiveness

When is Network Management Applicable?

Estimating and Managing Markdowns

Calculating Optimal Customized Prices.
Pricing and Revenue Optimization is a great book for anyone wanting to explore the quantitative field of yield management and dynamic pricing to improve their business decisions. It is designed for all types of readers and gives a perfect balance of both theoretical principles and practical aspects of the discipline. A must read for anyone interested in the field!
Happy Reading!
Price Beam.
ABOUT THE AUTHORS:

Robert L. Phillips: Is the Founder and Chief Technology Officer of Nomis Solutions and Professor of Professional practice at the Graduate School of Business at Columbia University.
---