Book Review - Innovation in Pricing: Contemporary Theories and Best Practices

PriceBeam
·
2 minute read
The Ultimate List of Great Books on Pricing
Individual Book Review:
Innovation in Pricing: Contemporary Theories and Best Practices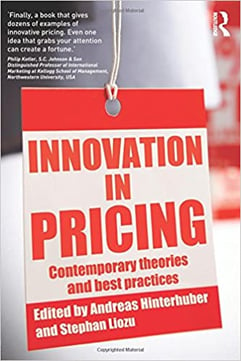 Book Author: Stephan Liozu and Andreas Hinterhuber
Most companies, continue to use a cost or competitor based approach to set their prices. Companies prioritize product or business model innovation, whilst innovation in pricing has received minimal attention. This book examines how innovation in pricing can drive profits.
Innovation in Pricing is one of the books selected from The Ultimate List of Great Books on Pricing we have compiled. Pick up a book or two - to help you charge the right price for your products or services.
Continue reading through our review of Innovation in Pricing below!
This book introduces the idea that you need innovation and not only passive optimisation to drive great results in your pricing strategy. The authors introduce four complementary perspectives to examine the Innovation in Pricing and bring together 26 articles from business practitioners academics and consultants to illustrate how companies can make use of this concept, through practical examples and case studies. Their results and perspectives are based on their research including interviews with 50 executives and analysis of 70 companies worldwide.
Key perspectives discussed in ´Innovation in Pricing´ include:
Strategy: The authors illustrate how companies implement innovative pricing strategies, such as customer value-based pricing.

Tactics: The books present the readers with a series of tools to measure customer willingness to pay and communicate value to B2B and B2C customers.

Function: The authors examine state of the art approaches to embed the pricing function into an organisation.

Psychological Aspects: The authors discuss how pricing can influence customer perceptions of value and price in their question to implement innovation in pricing.
This book is exclusively dedicated to innovation in Pricing and is therefore, an essential book for all pricing managers and business practitioners wishing to treat this concept as seriously as they treat their business or product innovation. The authors present a canvas laying out more than 20 possible avenues for innovation in pricing, offering to any organisation, regardless of the size or industry, effective routes to increase profits and customer satisfaction. The authors have great insights to share and are from the world's largest companies, leading research-based universities and consulting companies specialized in pricing.
Happy Reading!
PriceBeam.
ABOUT THE AUTHORS: Stephan M. Liozu

Stephan M. Liozu is Founder of Value Innoruption Advisors, a consulting boutique specializing in industrial, digital, and value-based pricing. Stephan has worked for both Fortune 500 companies and family-owned businesses, and with over 20 years of experience in business he now focuses on design and creativity in value and pricing strategies. He is a Certified Pricing Professional (CPP), a Prosci Certified Change Manager, and a Strategyzer Certified Business Model Innovation Coach. Stephan sits on the advisory boards of the Professional Pricing Society and Leverage Point Innovation.

Andreas Hinterhuber is an Associate Professor of Marketing at Ca' Foscari University of Venice. He is a partner at Hinterhuber & Partners, a strategy, pricing, and leadership consultancy based in Innsbruck, Austria. Kennedy information, a Bloomberg business, ranks Hinterhuber & Partners among the top consulting companies globally in pricing strategy consulting.
---