Book Review - Monetizing Innovation

PriceBeam
·
2 minute read
The Ultimate List of Great Books on Pricing
Individual Book Review:
Monetizing Innovation: How Smart Companies Design the Product around Price.
Book Author: Madhavan Ramanujam and Georg Tacke.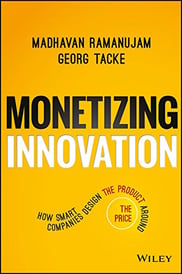 In this book, the authors at Simon Kucher, condense the lessons of thirty years and more than 10,000 projects into a practical, nine-step concept. Monetizing Innovation has unique categories and efficient summaries to make the program part of your organisational culture.
Monetizing Innovation is one of the books selected from The Ultimate List of Great Books on Pricing we have compiled. Pick up a book or two - to help you charge the right price for your products or services.
Continue reading through our review of Monetizing Innovation below!
Innovation is the most important driver of growth today. Today more than ever companies need to innovate to survive. Unfortunately, most companies struggle to monetize their innovation, designs and new product ideas, in fact, 72% of innovations fail to meet their financial targets or completely fail.
The aim of Monetizing Innovation is to get the reader to adopt a new model: Understanding if consumers are willing to pay for your invention/ new product/ service, before you commit too many resources to developing and launching it, will radically increase their likelihood of success.
The authors describe how putting the customers willingness to pay for a new product at the core of product design is essential. Price isn't merely a dollar figure; it is a measure of what a customer wants and how much they want it. It is an explanatory factor in determining whether a product makes money, yet it is always an afterthought and consideration made after a product is developed.
Monetizing Innovation describes the 4 main Pricing Problems and how to diagnose your unique business problem. It then expands upon various Monetization models and describes multiple solutions to your innovation problem.
Key Takeaways from ´Monetizing Innovation´ Include:
75% of VC start-ups fail

65% of products fail at a cost of 260B

83% of companies face downward pricing pressure.

R&D is more expensive

Increased competition from start-ups, globalization, and the pace of innovation is accelerating.

When designing products, configuration and bundling is more science than Art.

Price low for market share or high for a premium branding: pick the winning pricing strategy.
¨Success is defined by bringing new products to market, expanding our reach. The pace of change is accelerating worldwide. For many of us, innovation is no longer a question of prioritization or investment; it's a question of survival. Yet the failure rate for innovation is shockingly high. Nearly three out of four new products or services miss their revenue and profit goals. Many of those crash and burn entirely, and some take their companies with them.¨
Monetizing Innovation is a must read for every everyone from CEO´s revisiting price or launching a new product, to entrepreneurs deliberating innovation.
Happy Reading!
Price Beam.
ABOUT THE AUTHORS:

Madhavan Ramanujam is a Board member and Partner at Simon-Kucher & Partners based in its San Francisco/ Silicon Valley office. Advising companies of all sizes from Fortune 500s to startups, Madhavan has led more than 125 monetization projects for Internet, Software and Technology clients, helping bring numerous new products to market.

Dr. Georg Tacke is the former CEO of Simon-Kucher. He led the company from May 2009 to December 2019 and is currently serving the firm in the capacity of a Senior Partner/Advisor.
Tacke is regarded as one of the leading international pricing and monetization experts. In this area he also acts as a personal consultant to C-level executives in various industries.
---