Book Review - Priceless: The Myth of Fair Value

PriceBeam
·
2 minute read
The Ultimate List of Great Books on Pricing
Individual Book Review:
Priceless: The Myth of Fair Value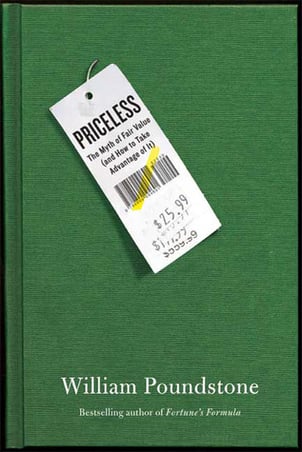 Book Author: William Poundstone
The bestselling author William Poundstone reveals in this book the mysterious psychology of value. Using psychological experiments as examples, he describes how people are unable to measure "fair" prices precisely. Consumers are heavily influenced by unconscious and irrational decisions.
Priceless is one of the books selected from The Ultimate List of Great Books on Pricing we have compiled. Pick up a book or two - to help you charge the right price for your products or services.
Continue reading through our review for Priceless below!
Traditional economics assumes people engage in rational transactions. In Priceless, the bestselling author William Poundstone, draws from research in psychophysics (The study of sensory perceptions) and behavioral economics to reveals the hidden psychology of value and explore the subject of price. It has been proved, through psychological experiments, that people are unable to estimate "fair" prices accurately and are significantly influenced by the unconscious, illogical, and politically incorrect. Prices are the most prevalent hidden persuaders of all.
Deep-rooted in the emerging field of behavioral decision theory, Priceless should demonstrate indispensable to anyone who negotiates. Behavioral finance is the study of psychology as it concerns to investing and portfolio management. Researchers have discovered multiple behavioral biases that can detriment an investor's decision-making process— information that can be incredibly valuable to practitioners. Marketers are applying these findings. "Price consultants" advice retailers on how to convince consumers to pay more for less. The psychology of Price dictates the design of price tags, menus, "sale" ads, etc.
Poundstone not only introduces the details about academic studies and backgrounds of researchers in this field, he also focuses on the application of these principles in various contexts. He provides an enjoying overview of the beginnings of Behavioral Economics, covering Ward Edwards, esteemed as one of the founders of behavioral decision theory, to Amos Tversky and Daniel Kahneman, the establishers of the Prospect Theory. The book also gives multiple case studies of how people can be continually manipulated. Readers are told from a consumer's perspective "there's absolutely no difference in value" between $4.99 and $4.95. However, with volume, those four cents add up. "A small change in prices can make a huge difference in profitability, for good or bad."
The following are the entertaining examples introduced by the author in Priceless:
"Free" 72-ounce steak, which he uses as a segue into supermarket pricing

$14,000 Ralph Lauren handbags which leads into a discussion of two competing bread makers at Williams-Sonoma

$100 hamburgers, which segues into a look at the Chili's menu with its stars, puzzles, plow horses, and dogs.

Bias in the two-offer ultimatum game, alcohol-fueled negotiations or money illusion in Zimbabwe.
At the end of the book, readers will have a much better picture and understanding of the fundamental economic psychology of retail and how businesses appoint their prices. You'll also be better situated to set prices for your business or assess those being offered to you.
Happy Reading!
PriceBeam.
ABOUT THE AUTHOR:
William Poundstone:
William Poundstone is the author of more than ten non-fiction books, including Doomsday Calculation, Big Secrets, Prisoner´s Dilemma and Fortune's Formula, which was the Amazon Editors' Pick for #1 non-fiction book of 2005. He won the NYSSCPA´s Excellence in Financial Journalism Award in 2011. Poundstone has written for The New York Times, Psychology Today, Esquire, Harpers, The Economist, and Harvard Business Review, among other publications and has adapted various of his books for ABC television. He has appeared on The David Letterman Show, Today Show, and multiple radio talk-shows throughout the world. He studied physics at MIT and most of his writing often explore social implications of scientific or philosophical ideas. He is on the board of advisors of the Center for Election Science. Pound stone's books have sold over half a million copies worldwide.
---