Optimize Lifecycle Pricing with Willingness-to-pay Insights

PriceBeam
·
2 minute read

Willingness-to-Pay evolves over time
Most products and services experience a development in willingness-to-pay (WtP) over time.

For some products, illustrated by the chart on the left, WtP declines, as customers consider it less valuable. This can be the case for perishable goods, but also many technology products, where there is a novelty factor, or where there are newer versions with better features at a higher value to the customer.
The opposite can also be the case for some products, in particular if there is some sort of scarcity involved; scarcity that increases over time. This is often seen e.g. in the art world, or with antiques, but can also take place in e.g. certain technical services: if a technical vendor is still supporting old versions/installations they may be able to charge a premium, as customers are willing to pay a higher price for continued service of the old version, rather than having to take the costs of upgrading from an old version to the latest one.
Having WtP evolve over time is in itself neither good nor bad, but guessing about its development and then potentially losing out on additional profits can be costly.
Guessing or Knowing Willingness-to-Pay
In the example below, a vendor is basing its pricing strategy on an estimated development in willingness-to-pay over time. It means that they may introduce discounts or price changes over time, to reflect what is their guestimate.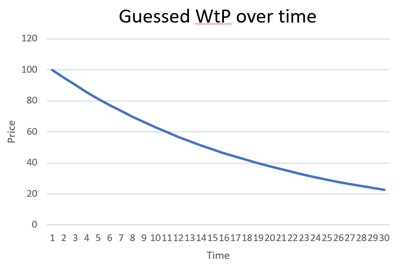 However, in reality, had they approached it more scientifically and done some market research, they would have seen a different development: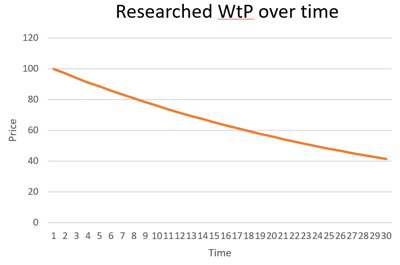 Customers are actually willing to pay a higher price than anticipated by the vendor. Or put differently, the customers see a higher value from "old" products. Sometimes this can be the case across the entire market, and sometimes this dynamic applies to specific customer segments. In mobile phones, it may be that professional, working parents would want to buy the latest iPhone X, whereas their teenage daughter is perfectly content with getting a (cheaper) iPhone 6, because it still gets her a phone. So in an ideal world, WtP research should be done for different customer segments, so that pricing policy and marketing communication can be targeted to those individual segments' willingness-to-pay.
Back to the example above. If using guesswork instead of researching the real willingness-to-pay, the vendor essentially leaves money on the table by taking the price down too fast: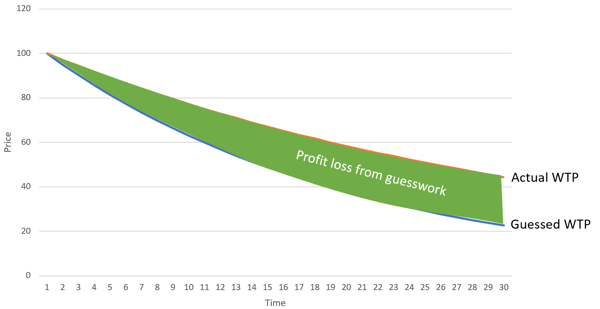 The value of the money left on the table is the size of the green area above (under the assumption that the vendor priced according to the guessed WtP). For most products or services, this can be significant money left on the table over time.
PriceBeam can help with this challenge. With a PriceBeam WtP study, you can take the guesswork out and optimize prices across the lifecycle of the product.