Book Review - Smart Data Pricing (Information and Communication Technology Series)

PriceBeam
·
2 minute read
The Ultimate List of Great Books on Pricing
Individual Book Review:
Contextual Pricing:Smart Data Pricing (Information and Communication Technology Series)
Book Author: Soumya Sen, Carlee Joe-Wong, Mung Chiang, and Sangtae Ha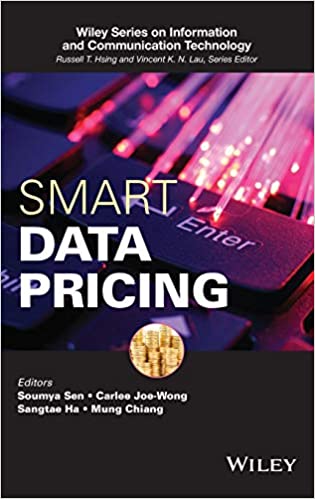 Smart Data Pricing tackles the challenges caused by the rapid surge in demand for network, cloud, and content services and gives insight to the latest innovations in pricing these services to favour consumers, content providers and operators.
Smart Data Pricing is one of the books selected from The Ultimate List of Great Books on Pricing we have compiled. Pick up a book or two - to help you charge the right price for your products or services.
Continue reading through our review of Smart Data Pricing below!
The pricing of data traffic and other services is central to the core challenges of network monetization, growth sustainability, and bridging the digital divide.
Smart Pricing tackles the timely issue of surging demand for network, cloud, and content services and corresponding innovations in pricing these services to benefit consumers, operators, and content providers.
The ideas and background of the technologies and economic principles discussed within these chapters will support managers in identifying new business directions and innovating solutions to challenging business problems and are of real value to practitioners, researchers, and managers in identifying trends and deploying new pricing and network management technologies.
Key ideas and topics discussed in ´Smart Data Pricing´ Include:
• The analysis of leading researchers from industry and academia surrounding the pricing of network services and content.
• Current trends in mobile and wired data usage and their economic implications for content providers, network operators, end users, government regulators, and other players in the Internet ecosystem.
• New concepts and background technical knowledge that will help researchers and managers effectively monetize their networks and improve user quality-of-experience.
• Cutting-edge research on business strategies and initiatives through a diverse collection of perspectives.
•Combines academic and industry expertise from multiple disciplines and business organizations.
In this book experts from both academia and industry discuss all aspects of smart data pricing research and development, including economic analyses, system development, user behavior evaluation, and business strategies.
All in all, Smart Pricing is a comprehensive text that addresses the high demand for network, cloud, and content services through cutting-edge research on data pricing and business strategies!
Happy Reading!
Price Beam.
ABOUT THE AUTHORS:
SOUMYA SEN is an Assistant Professor of Information & Decision Sciences at the Carlson School of Management of the University of Minnesota. He is one of the co-founders of the Smart Data Pricing Forum and the startup DataMi. His research on the economics of network systems has been published by the IEEE, ACM, and AIS. He holds an MS and PhD in Electrical & Systems Engineering from the University of Pennsylvania and did his postdoctoral research at Princeton University.
CARLEE JOE-WONG is a PhD candidate at Princeton University's Program in Applied and Computational Mathematics. She co-founded DataMi in 2012 together with Sangtae. DataMI is a start-up company commercializing smart data pricing. She holds a bachelor and masters degree in Applied and Computational Mathematics from Princeton University.
SANGTAE HA is an Assistant Professor in the Department of Computer Science at the University of Colorado and is part fo the Interdisciplinary Telecommunications Program. He co-founded DataMi in 2012 as CTO and prior to this, he was an Associate Research Scholar in the Department of Electrical Engineering at Princeton University. He holds a PhD in Computer Science from North Carolina State University.
MUNG CHIANG is a Professor of Electrical Engineering at Princeton University, the Director of the Keller Center for Innovations in Engineering Education, and the Chair of Princeton Entrepreneurship Advisory Committee. He recieved the Alan T. Waterman Award in 2013.
---