The Ultimate List of Great Books on Pricing
Individual Book Review:
Don´t Just Roll the Dice:

A Usefully short guide to Software pricing.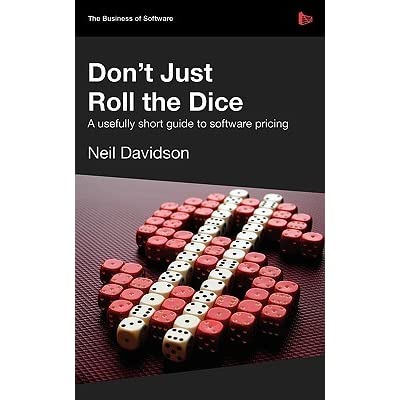 Book Author: Neil Davidson
This concise guidebook contains practical advice on how you should price your software. How much attention should you pay to your competitors? Through case studies you will learn how to stop yourself from reaching for the dice.
Don´t Just Roll the Dice is one of the books selected from The Ultimate List of Great Books on Pricing we have compiled. Pick up a book or two - to help you charge the right price for your products or services.
Continue reading through our review for Don´t Just Roll the Dice below!
Pricing a software product is a challenging job. Is it art or Science? How much attention should you pay to your competitors? The problem is that the marginal cost to make an additional unit of software is efficaciously zero. The internet has removed the cost of distributing software. Therefore, if production and distribution are free of charge, what leads to software being so expensive? It is the cost of people required to develop and market it. These elements can add up quickly, getting very expensive.
This guide will provide you with the theory and practical advice, through case studies, you need to stop yourself from using guesswork when pricing your software or ´rolling the dice´.
This handbook is focused on software pricing, more specifically on early and growth stage companies that still haven´t established a profitable business model. Don´t Just Roll the Dice is highly recommended for readers who are just starting out or getting ready to launch a product.
The author does review basic economic pricing concepts, however he focuses on software and recognizes that pricing software is different than pricing computers or cellphones or any other physical items where there is a cost associated with the product's manufacture.
Don´t Just Roll the Dice is split into five chapters that go through the pricing process from simple economics to real life case studies. It doesn´t go into details of the different pricing mechanisms such as discounting to enterprises or bulk customers and trade comissions, but rather goes into detail on pricing decisions involved in pricing software.
The handbook goes through the following checklist to help you set your optimal Price:
Pricing Pitfalls: Whats wrong with your strategy?

Pricing Psychology: What is your product worth?

How will your customers judge the fairness of your pricing?

Who are your customers? What your price says about you and How to change it.

Who are your competitors?

How are you going to sell your software?

Can you segment your customers, and create versions?

How can you bundle your software?
This short handbook, at under 100 pages, is very concise and to the point. Its 100% action oriented and filled with technical and practical advice.
Happy Reading!
PriceBeam.
ABOUT THE AUTHORS:

Neil Davidson: is co-founder and joint CEO of Red Gate software. Red Gate was founded in 1999 and now employs some 300 people across 3 continents. It has been in the Sunday Times top 100 companies to work for six years running and it was Cambridge News Business of the year in 2006. It was founded with no VC money and little debt. Neil is also founder of the annual Business of Software conference and runs the Business of Software social network.
---