The Ultimate List of Great Books on Pricing
Individual Book Review:
Negotiating with Backbone: Eight Sales Strategies to defend your Value.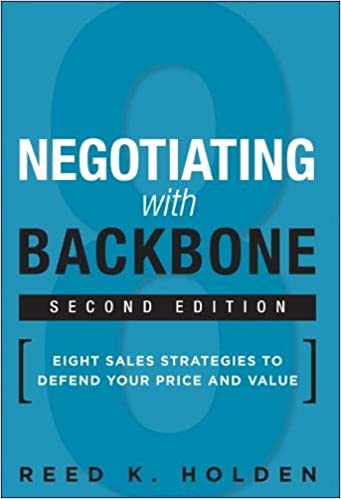 Book Author: Reed K. Holden
Premier Pricing strategist and sales consultant Reed K. Holden shows you the latest pricing strategies and tactics needed to protect your margins and get the right transaction.
Negotiating with Backbone is one of the books selected from The Ultimate List of Great Books on Pricing we have compiled. Pick up a book or two - to help you charge the right price for your products or services.
Continue reading through our review of Negotiating With Backbone!
Reed K. Holden describes two of the games salespeople and executives play in the great game of procurement. Procurement deploys a variety of tactics designed to do one thing: gain unprecedented discounts and concessions out of even the most sophisticated sales professionals. There are eight easy-to-identify games and tactics associated with each one. If you understand your position in the game, you can play the game better. It is a culture-changing, experiential initiative to drive better understanding, management, and defense of value in tough negotiations.
Because of this pricing pressure, high-quality, high-value large companies aren't covering their cost of capital. Profits are draining from once-profitable businesses and companies are going out of business because they don't know how to deal with the "purchasing pricing buzz saw."
Key ideas and tactics discussed in ´Negotiating with Backbone´ to help training salespeople to understand customer value and develop better relationships with their customers:
- Company supported- Sales traps: Encouraging Desperation Pricing and Succumbing to the "white Horse Syndrome"
- Evaluating procurement positions and dealing with different procurement styles.
- Reeds Eight Strategies for winning the procurement game.
- Negotiating with Value Buyers and Poker Buyers.
- How to Negotiate with price buyers and with Relationship Buyers
- Signs that you're losing the negotiation game: Finding a Devil's advocate.
- How to develop your playbook.
Negotiating with Backbone is a great book for any firm price who has to deal with procurement. It is designed to give a power-boost to mainstream sales processes. This book gives salespeople the knowledge and tools to effectively identify consumer behaviors and use effective tactics to negotiate with customers and realize higher revenue and margins.
Happy Reading!
Price Beam.
ABOUT THE AUTHORS:

REED K. HOLDEN: Is a world-class pricing expert and the author of Negotating with backbone and Pricing with Purpose. He is the founder of Holden Advisors, where he provides B2B pricing and negotiating advice to clients building go-to- market strategies to drive price leadership, selling backbone and profitable growth.
---