Book Review - Monetizing and Pricing Sustainability

PriceBeam
·
1 minute read
The Ultimate List of Great Books on Pricing
Monetizing and Pricing Sustainability: Beyond Good Intentions: Transform Your Go-to-Market for Sustainable Impact
Book Author: Stephan M. Liozu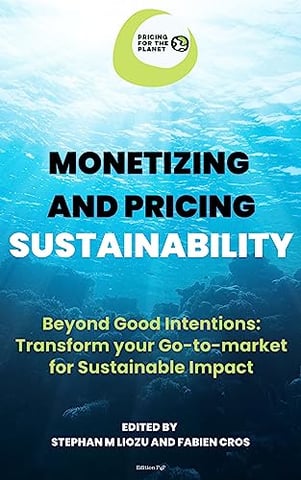 Monetizing and pricing sustainability analyses the idea of uniting sustainability with the world of pricing and monetization.
Stephan takes an interesting approach by guiding readers on a journey towards the future where profit and sustainability aren't mutually exclusive, but indeed interconnected. The book doesn't plan to change pricing but uses what exists today and applies it with sustainability at the forefront.
Are you ready to challenge conventional wisdom and embrace this 3P holistic approach, pioneering sustainable monetization?
Stephan not only introduces the idea of integrating sustainability and innovative pricing to show how businesses can make a difference in today's world of pricing but also uses real-life case studies, showing the readers it is possible to walk the walk not just talk the talk. It is possible to live in a world where profit and sustainability are interconnected.
Key ideas and topics discussed in 'Monetizing and Pricing' Include:
Businesses should create more intentional and ambitious strategies, in order to enable the consumers to accept sustainable products/services. How can businesses enrich and empower the population, through sustainable marketing campaigns?
Measuring the impact of campaigns and accountability to make sure when things are promoted there is a benefit for consumers.
Stephan discusses pioneering companies who managed to not only speak about sustainability practices but actually have an impact.
How to define what sustainability means for consumers with willingness-to-pay.
This book has introduced a new way of thinking for pricing and revenue managers, it introduces new ideas that can have a significant impact on both businesses and consumers if done with good intentions. It is impressive to read a book where the wisdom of experts in the fields of pricing, monetization, and sustainability are united.
Happy Reading!
Price Beam.
ABOUT THE AUTHOR:

Stephan m. Liozu: has edited of published 12 books on pricing including; Industrial Subscription Economy, Pricing - The New CEO Imperative and many more. He is the founder of Value Innoruption Advisors, a consulting boutique specializing in industrial, digital, and value-based pricing.
---