4 Marketing Failures that Really Hurt Brand Equity

PriceBeam
·
2 minute read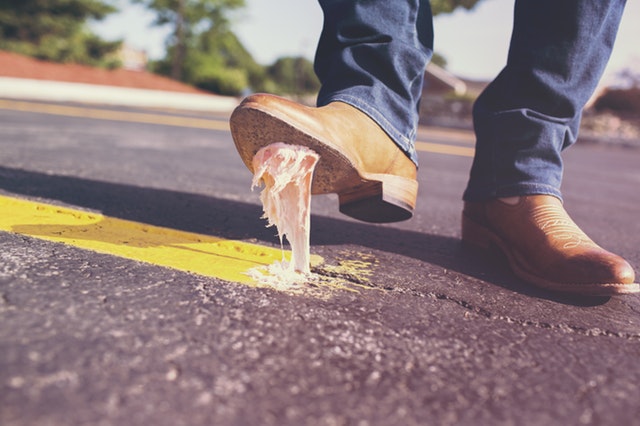 At the end of the day, your brand equity comes down to consumer sentiment: without their support, your brand is worthless. As such, building and managing brand equity is a dynamic process, and with social media your brand is constantly on display: if you do nothing, your brand won't get exposure and you'll be losing out on the potential, and substantial, benefits that social media can give in terms of brand equity. At the same time, if you do something then everyone will see it. And if you botch it, it will spread at the speed of likes.
One misstep can have a serious impact. In this article, we look at some of the worst marketing failures that, from one day to the other, caused serious damage to the brand equity of the firm.
#1: Kenneth Cole




In 2011, Cairo was declared a warzone due to the numerous riots as part of the Egyptian evolution. Naturally, #Cairo became a trending hashtag on Twitter, and Kenneth Cole thought they could use this to get some brand exposure. As you can probably guess, making light of violence and misery in Egypt is not the best way to promote your new spring collection: people got really upset, and it is estimated that Kenneth Cole's brand equity declined by 64% from this tweet alone.
#2: Kellogg's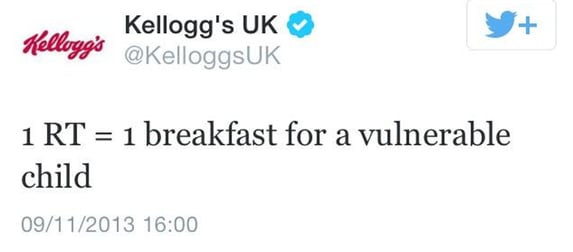 As part of their 'Give a Child Breakfast' initative, which aims to provide school breakfast for underpriviledged children, Kellogg's decided to donate money for 1 breakfast for every retweet on Twitter. You know, sort of like Charity Miles, just you only have to share a post on Twitter. But this tweet went down the wrong pipe, and people were outraged, as they felt Kellogg's were exploiting vulnerable children to gain exposure -- as if they would leave underpriveledged children to starve, if people wouldn't retweet. This, indeed well-intended tweet, ended up being perceived as blackmailing consumers, which gave Kellogg's a really bad time and seriously hurt their brand equity.


#3: United Airlines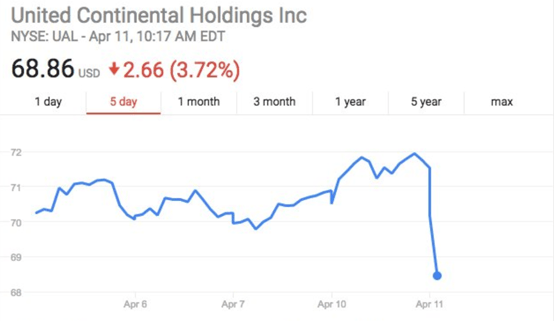 Unless you've been living under a rock, you probably heard about the unfortunate attention that United Airlines drew when they decided to force a passenger off one of their planes because they had overbooked it. Overbooking happens all the time, and even the situation with the passenger could probably have been handled a bit more delicately; but that's not on the marketing & communications department. However, the subsequent CEO message to the employees was an absolute disaster, which really exacerbated the entire situation: rather than admitting to their mistake and apologizing to the victim, United Airlines maintained that they acted correctly, and even blamed him for the situation.
As shown above, people did not take this incident lightly, and it has since been estimated that the incident cost United Airlines in excess of 1 billion dollars.
#4: Société Bic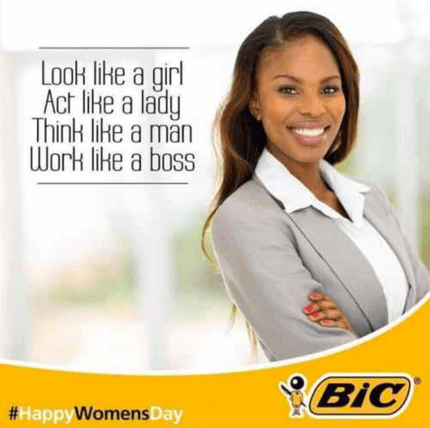 On International Women's Day, BIC decided to launch a commercial to... well, to this day, it remains a mystery how this commercial could ever be thought to promote gender equality. People criticized several aspects of this commercial, including the phrase "look like a girl" for hinting that female beauty declined with age, but primarily the implication that in order to work like a boss, you need to think like a man.
This is not the first time BIC got into trouble with their depiction of the female gender. Previously, they got a lot of negative press when Ellen DeGeneres publicly criticized and ridiculed their 'BIC: For Her' pen, which cost twice as much as other pens (we've explained why that is in this article here)
The Lesson
Right, in some of these cases you could say they walked right into it. We've selected these rather extreme cases to show just how powerful social media is, and how substantial an impact it can have on your brand equity.
However, we see cases on a regular basis, where the impact is not as obvious, but nevertheless, it's there: firms that don't understand their customers, their preferences and values, who consistently miss the target with their branding: at best, it may be waste of advertising budget, but it can even have a detrimental impact if the marketing message is not consistent with your customers' value-drivers. If you don't understand why your customers buy your product, you can't tell them what they want to hear!