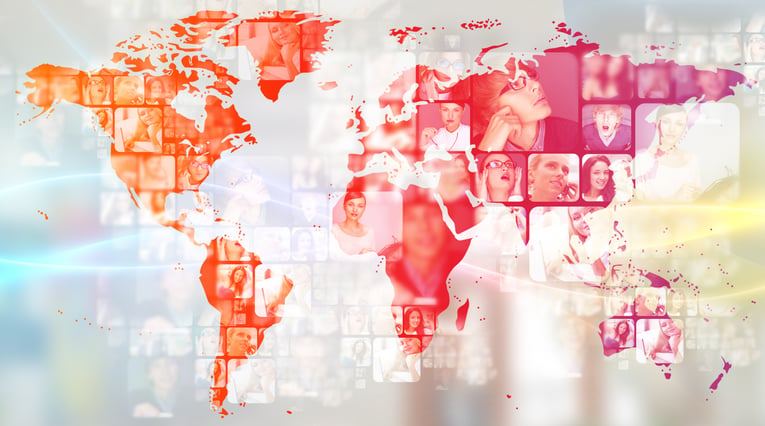 Hal Varian, chief economist at Google, predicts that "micromultinational companies" - small companies with global operations - will be a majority in the future. The barriers to entry in international markets are lower than ever as trade regulations have been loosened and effective financial systems have become established in most countries. Moreover, international shipping is cheaper and more convenient while sophisticated global communication systems are for everyone.
At the same time, emerging economies make up a vast chunk of the demand for Western products with growing middle class populations and preference for these products. It's not just the BRIC-countries, but also markets such as Poland, South Africa and Indonesia that offer great opportunities for growth expansion.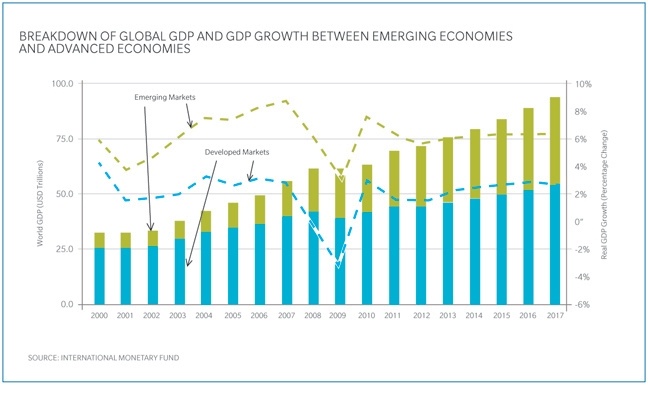 Yet, Companies Remain Reluctant
The opportunities are clear and more feasible than ever, but companies are still reluctant to step outside their comfort zone. It's understandable, considering how many large multinational companies that failed at gaining a foothold in emerging markets. Even domestic companies fail at this task: An Indian automaker launched a new truck with a specially designed engine that would allow the owner to drive faster with higher fuel-efficiency, and ultimately a higher asset utilization. However, India's poor infrastructure prevented the truck-owners from reaping the rewards from this engine and the truck was a fiasco. This is a testimonial to the fact that emerging markets are challenging in nature, also for domestic companies.
Tailoring your products to emerging markets can, indeed, be challenging. In a survey of American companies, 42 percent stated that the fact that their product was tailored to American consumers held them back from expanding internationally. They're right to worry: Consumers in emerging markets are both extremely demanding and price-conscious. But by rethinking your product development and adapt to this reality, you can win big.


"Reverse Innovation" is the New Black
As multinational companies such as Coca-Cola, Nestlé and Microsoft recognized the need for rethinking their product development, they started to put the needs and values of emerging markets first. In other words, new products were initially created for customers in emerging markets before being launched in mature markets. This is known as "reverse innovation" because the product will be adopted first by emerging economies, whereas rich countries usually are the first ones to adopt new innovation.
Typically, this process will involve launching a decent quality product at ultralow prices that reflect the much lower willingness-to-pay in these economies: that is, a "50% product at a 5% price". Not only will this process help you tailor products to those demanding consumers in emerging markets, it also encourages the development of more innovative and cost-efficient products that will make you more competitive in mature markets.
Yes, you have to innovate!
This may seem obvious, but a study by Harvard University found that companies creating products for emerging markets would usually just add a few modifications to one of their existing products. And this just doesn't work. An example is the tractor-manufacturer John Deere, who tried entering the Indian market with an American model which they had carefully modified for the Indian consumers. However, they failed to take the small size of Indian farms into account, and the wide turning radius of the tractor consequently didn't meet the needs of the Indian farmers. There is no way around it - you have to start from scratch.
Collaborate with Your Stakeholders
A key component of successfully entering emergent markets is the preliminary research process. Before you can start product development and the establishing of distribution channels, you need to make sure your product developers share the attitude of stakeholders. That is, make sure you understand those who will produce, distribute and use your product - what needs do they have and how can you meet them? A good way of doing this, is by letting them in on product development ideas. For John Deere, this would mean talking to local factory-owners about component features and assembly procedures, or consulting with farmers about what functionality they would require. Probably, the farmer would've pointed out the wide turning radius, which John Deere's highly educated engineers didn't. And, of course, have your stakeholders test the product before launching it to the entire market.
Get Your Pricing Right
Generally speaking, consumers in emerging markets are more price conscious as GDP per capita is lower. That being said, this doesn't mean you should tighten your margins as much as possible. Even in these markets, there are still sub-segments with differing willingness-to-pay and the high inequality that typically characterizes emerging economies makes your price positioning even more crucial. By pricing too low and target "everyone", you can be sure those high-end customers will leave you for a more exclusive product. Especially if you're using reverse innovation, you want to make sure that you generate profits for continuous product development, so your "50% product" eventually will live up to Western standards.
Finally: Believe in Your Product
It's not as cheesy as it sounds, actually. Many businesses tend to underestimate the global potential of a product developed for emerging markets, as these are often very specialized and tend to be of relatively low quality. This is far from the truth. As mentioned above, the consumers in these markets demand a lot at a low price, and so the key is to build on this "50% product at a 5% price" and make it a "200% product at a 150% price".

Read more about how you can get your pricing right for new market segments.